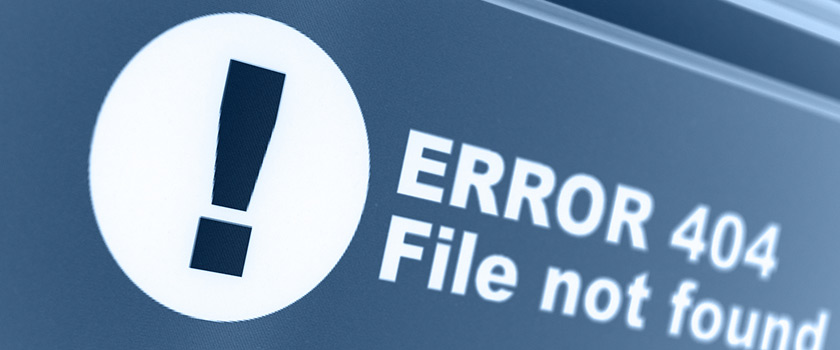 Q: I got a message from Google that my site had an increase in 404 errors. What should I do?
A: If you've received this type of message from Google, you must have set up and configured your Google Search Console (formerly Google Webmaster Tools) for your site. That's great! Search Console is important for advanced-level monitoring of your website's relationship with Google and includes some great features not available in Google Analytics. One of these features is monitoring for messages from the Googlebot, Google's name for the system it uses to catalog the entire Internet.
Search Console messages are typically cataloged as either site errors or URL errors. Site errors usually indicate a true problem, like a server is down or your domain name has expired. URL errors are much more common and are usually a little trickier to diagnose.
The message you received about an increase in 404 error messages is one of the most common URL error messages. The 404 'errors' Google is alerting you to aren't actually errors at all. A 404 message is merely the code used by Internet servers to indicate that a web page can't be found.
A 404 message from the Google Search Console means that a page Google previously found on your website is no longer available. This doesn't necessarily mean something is amiss – in fact, it's often a signal that everything is working properly. The server hosting your website did what it is supposed to and sent a 404 message to Google when it couldn't find a page.
Having a number of product catalogs available on your site can lead to more 404 messages. As products and pages are removed by their manufacturer, your website will automatically update. The next time Google looks for those removed pages, your website will send a 404 message because the content is no longer there. All is well and working properly!
The only time for concern is when high-level, important pages are showing up with a 404 message. Your home page, "Services" page and "Contact Us" page would all fall in this category. When you see 404 messages for these types of pages, it's usually a sign that someone mistyped a link somewhere on your website or mistakenly deleted an important page.
Your Search Console messages can help your web designer or digital marketing staff diagnose issues on your website and ensure that browsers are getting to their destination. Need a hand managing your website? Talk to an ARI Website Consultant to learn how we can help.
Got a question for Bill? Email seo@arinet.com, and your question could be featured in a future post!